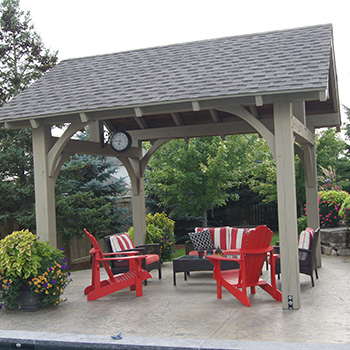 TIMBER FRAME GAZEBO'S & CABANAS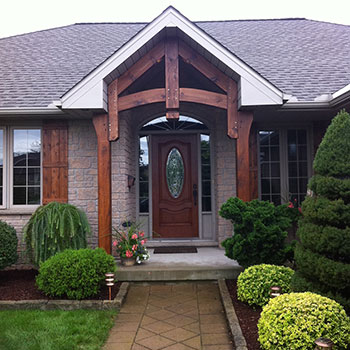 TIMBER FRAME PORCHES & ENTRANCES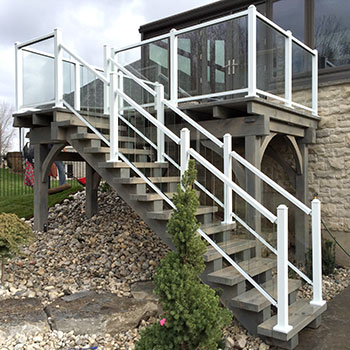 Call, text or message Thane at 519-868-4564 today!
Let TimberThane help you fall in love with your home. We guarantee it will stand the test of time, because it's crafted just for you.
We are the go-to Timber Frame Construction company in London Ontario and area
At TimberThane, we deliver the highest quality timber frame structures to enhance your home, both inside and out.
Using traditional wood crafting methods combined with modern tools and high-tech design systems, we construct timber frame gazebo's, cabanas, entrances, porches, decks and interior renovations that will have you falling in love with your home again. You'll adore cooking in your new outdoor kitchen gazebo or cabana, enjoy a holiday feast in your new open-concept family dining room and welcome visitors with pride through the stately entranceway that TimberThane has added to the front of your house.
Exterior renovations
From small enhancements to major changes to the look of your home, I bring my expertise and commitment to quality workmanship to your home improvement project, no matter what it may be.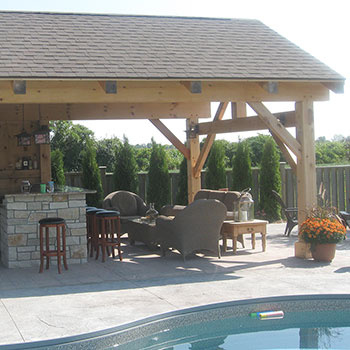 Gazebo's and Cabanas
This is our most popular item and one of my favourites. It is a separate structure outdoors, most typically beside a pool. It's some place where Mom and Dad can sit while their kids are in the pool. Often cabanas will house a TV and/or a BBQ or even a lounge. People can prepare meals and watch the game and have a glass of wine by the pool. Often, cabanas can be attached to the house as a porch or attached cabana so people want to extend their living space.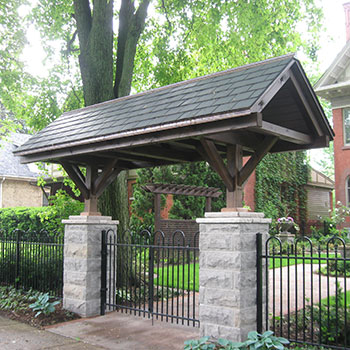 Entrances and gateways
I can create these structures to offer an inviting entry into your home or property. The decorative archways will invite visitors inside. The solid roofs will provide shelter from the elements, allowing friends and family to step out for fresh air, intimate conversation or just to enjoy the night sky. The clean, crisp angles will help to frame a garden view from the outside looking in.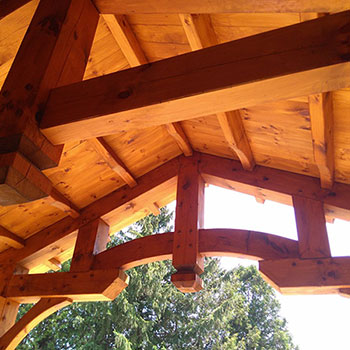 Porches and decks
Whether you are looking for a cozy, intimate space to read in the evening or a larger space to entertain and BBQ, I will create a magical attachment to your home to extend your living area that is both sturdy and decorative.
Interior renovations
From adding the warmth of wood to a single area of a room, to restructuring and joining two rooms into one, timber framing is a great way to enhance your great indoors. I can help you add warmth, functionality and interior décor charm to your home's living spaces.
Live Edge Furniture
Live edge or natural edge is a style of furniture where we incorporate the natural edge of the wood into the design of the piece. Let us design and create a custom dining table, desk, coffee table or shelving to suit your needs.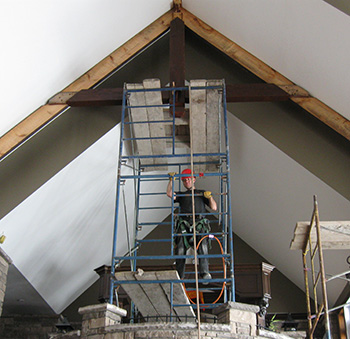 Great rooms
Harkening back to medieval times, these great rooms provide one large living space where everything happens, rather than dividing the space up into several smaller rooms. Combine your living and family rooms into one large area where the family can live, work and play within earshot and eyesight of one another, strengthening the family bond.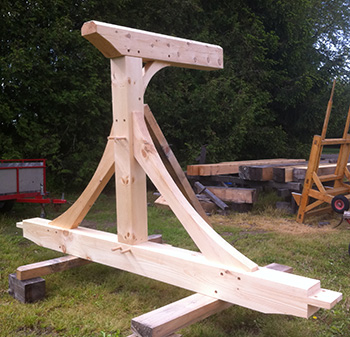 Trusses
I use trusses in all of my projects but I can also build frameworks, consisting of rafters, posts and struts, separately for your DIY projects. Each truss will be constructed with strong, sturdy beams that will offer maximum support that you can depend on for the length of your project and beyond.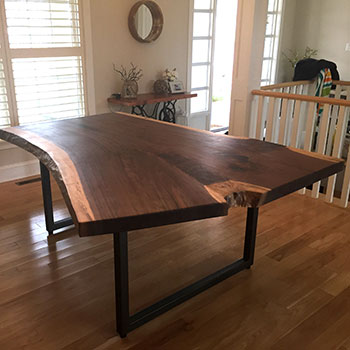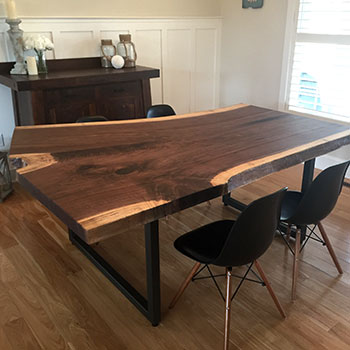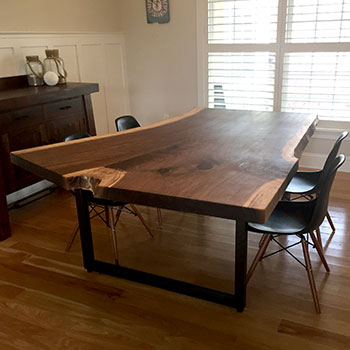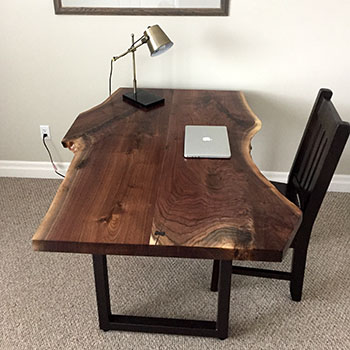 About Thane O'Dell
I have always loved working with wood and a deep admiration of all things historic that have stood the test of time.
Growing up in southwestern Ontario, I visited historic structures and liked the way that old barns were built; the way they were made by our great grandfathers. They were constructed by hand and seem to resist time.
This deep respect is reflected in my current enterprise, Timber Thane. I use traditional materials and methods to build outdoor structures that compliment the way homeowners use their yards and want their homes to look.
I went into the tool and die trade as a career, but continued to do timber framing as a hobby. In 2009, I decided to turn a hobby into a full time business and started my company – TimberThane.
I enjoy every part of the process, which combines old school methods and new technology. Using mortise and tenon jointing, a time-honoured method that remains the strongest way of joining two pieces of wood together, assures your structure will last. The structures are crafted using a variety of modern tools, like power saws and circular saws, alongside chisels and mallets, which helps achieve a traditional look within modern timelines.
I design timber frame structures employing the same CAD software that I used for so many years in the tool and die industry. I enjoy the design part of each project, working with the clients to create a timeless structure.
I value working with clients to achieve their dream outdoor or indoor living space. I love seeing the expressions on the clients' faces and watch them say 'Wow!' when they see the final product.
I look forward to working with you to enhance your home's interior or exterior spaces to ensure you'll have lasting happiness, just like those wonderful timeless barns.
Thane was amazing to work with! We had just a semblance of an idea in our heads, and he came back with incredible drawings and truly brought our vision to life. He has extraordinary attention to detail and an unbelievable work ethic; people continue to marvel over his craftsmanship. We wholeheartedly recommend Timber Thane to anyone considering them for their next project.
Through word of mouth, I was given Thane O'Dell's name as we were looking for options on a poolside cabana. I was thoroughly impressed by Thane's prompt response, enthusiasm for a relatively small project, and his attention to each and every detail. I absolutely enjoyed the inclusive building process, and his willingness to share his knowledge and passion for timber frame structures. Our family now spends long, hot summer days in our backyard oasis that showcases Thane's creativity.  Thanks again.
What is timber framing?
Also known as post-and-beam construction, timber framing is a method of building with heavy timbers rather than dimensional lumber, such as 2x4s. The traditional method creates structures using heavy squared-off and carefully fitted and joined timbers with joints secured by large wooden pegs (larger versions of the mortise and tenon joints in furniture).
What is mortise and tenon joinery?
Used for thousands of years, this is an age-old method of joining pieces of wood, usually at 90-degree angles, that is both simple and strong. The joinery is composed of the mortise hole and the tenon tongue. The tenon, formed at the end of a rail, is inserted into a square or rectangular hole, cut into the corresponding member. The joint may be glued, pinned or wedged to lock into place.
What type of material do you use?
Thane traditionally uses Eastern White Pine. "I use that because it's available in the sizes that I need. It's very stable. It doesn't warp or crack the way other woods do. Hardwoods tend to move and crack a lot." Thane explains. "Eastern White Pine is a very reliable wood to use."
Is the client allowed to work with you on the project?
Many times, in order to reduce cost, the client works with Thane. Often times they will handle the contracting of the foundation or the roofing, or do it themselves. "I can do the whole thing or if they want to be part of it, they can," he explains.
Thane says that when the building is ready to be raised, it is often done manually and the client, neighbours and family become involved in the process. "It's been like an event," Thane says, another throw-back to the days of old when barn-raisings became community gatherings. "All the families would show up and put the barn up. It's always a good time."
What is your availability like?
Thane is available any time. "If somebody needs me, I would be available," he says.
Are you available as a sub-contractor?
Thane has done work as a sub-contractor and would be open to future opportunities. He cites landscaping companies who have contracted him to make a timber frame for them.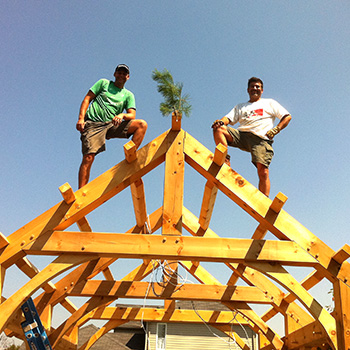 Call, text or message Thane O'Dell @ 519-868-4564
Contact TimberThane today!